Hercules
---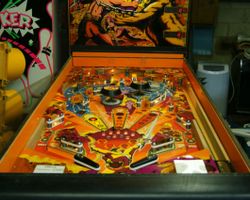 Rating:
2.63 / 5
Average Prices:
USD $600 to $3,400
Manufacturer:
Atari, Incorporated
Produced:
May, 1979
Machine Type:
Solid State Electronic
MPU:
Atari Generation/System 2
Players:
4




Design by:
Steve Bicker
Art by:
Jim Kelly
Hercules is a 1979 pinball game designed by Steve Bicker and released by Atari, Incorporated (1976-1983)
Marketing Slogans
"The largest, most dramatic flipper game ever."
"A New Legend from Atari!"
"18 square feet of excitement for 1 to 4 players."
"Enormous attraction and earning power collects coins and crowds."
---
---
| Cost | Location | Date |
| --- | --- | --- |
| USD $4,000 | United States | 23 April, 2021 |
| USD $3,999 | United States | 21 July, 2020 |
| USD $4,995 | United States | 27 June, 2020 |
| USD $6,000 | New Jersey, United States | 03 December, 2018 |
| EUR €1,266 | Germany | 08 April, 2016 |
| USD $2,025 | Washington, United States | 29 March, 2015 |
| USD $3,000 | Kansas, United States | 19 June, 2013 |
| USD $3,650 | Kansas, United States | 15 June, 2013 |
| USD $3,226 | New Jersey, United States | 01 October, 2012 |
| USD $540 | Michigan, United States | 20 November, 2009 |
---
---