Cactus Canyon
---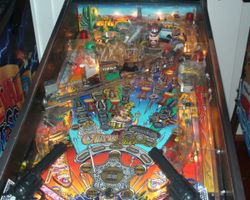 Rating:
4.14 / 5
Average Prices:
USD $5,900 to $10,400
Manufacturer:
Bally
Produced:
October, 1998
Production Run:
903 units
Machine Type:
Solid State Electronic
MPU:
Williams WPC-95
Players:
4




Design by:
Matt Coriale
,
Tom Kopera
Art by:
John Youssi
Dots/Animation by:
Adam Rhine
,
Jim Raff
Mechanics by:
Louis Toy
Music by:
Rob Berry
Sound by:
Rob Berry
Cactus Canyon is a pinball machine produced by Midway (under the Bally brand name). It is the WPC machine with the shortest production run (as the production for the new Pinball 2000 generation had to be started), thus making it a rare machine amongst collectors and the most expensive one of the whole WPC generation (only being beaten by Capcoms ultra-rare Big Bang Bar when considering all modern pinball machines).

Although fully playable, the software has never been finished (rumours exist that the home machine of Matt Coriale features a complete version). The final version (along with a re-run of the whole machine) was announced by The Pinball Factory (who bought the rights for the machine) to be released for 2007.
---
---
| Cost | Location | Date |
| --- | --- | --- |
| USD $9,849 | United States | 03 June, 2021 |
| USD $10,450 | United States | 06 January, 2021 |
| USD $10,000 | United States | 30 September, 2020 |
| USD $11,500 | New Jersey, United States | 22 October, 2019 |
| USD $10,750 | United States | 08 October, 2019 |
| USD $11,500 | United States | 06 October, 2017 |
| EUR €8,251 | Austria | 13 May, 2017 |
| USD $14,000 | Illinois, United States | 20 March, 2017 |
| AUD $11,095 | New South Wales, Australia | 30 July, 2016 |
| GBP £6,000 | Buckland Dinham, United Kingdom | 08 July, 2016 |
---
---