Corvette
---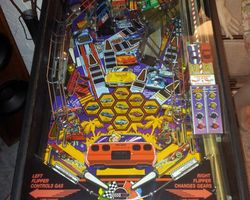 Rating:
3.99 / 5
Average Prices:
USD $1,300 to $2,500
Manufacturer:
Bally
Produced:
August, 1994
Production Run:
5,001 units
Machine Type:
Solid State Electronic
MPU:
Williams WPC Security (WPC-S)
Players:
4




Concept by:
George Gomez
Design by:
George Gomez
Art by:
Dan Hughes
Dots/Animation by:
Scott Slomiany
,
Eugene Geer
Mechanics by:
Thomas M. Kopera
Music by:
Paul Heitsch
Sound by:
Paul Heitsch
Software by:
Tom Uban
,
Bill Grupp
Corvette is a 1994 pinball game designed by George Gomez and released by Midway Manufacturing Company (1988-1999)
Marketing Slogans
"One Great American Legend Deserves Another."
"Theres a new breed of dream machine loose on the streets. CORVETTE from Bally."
"CORVETTE is a tour de force for pinball and Corvette fans alike."
"Test drive it at the showroom nearest you. But be prepared.You don't take this CORVETTE for a spin. It takes you."
"With this dream machine, there's no limit to the fun."
"A pinball worthy of the name CORVETTE."
---
---
| Cost | Location | Date |
| --- | --- | --- |
| USD $5,500 | United States | 11 March, 2023 |
| USD $7,000 | United States | 03 January, 2023 |
| USD $6,000 | United States | 25 July, 2022 |
| USD $6,000 | United States | 06 February, 2022 |
| USD $6,199 | United States | 15 November, 2021 |
| USD $3,600 | United States | 10 December, 2020 |
| AUD $4,050 | South Australia, Australia | 22 March, 2020 |
| EUR €2,035 | Germany | 08 January, 2020 |
| USD $4,050 | New Jersey, United States | 25 September, 2019 |
| AUD $4,500 | New South Wales, Australia | 19 September, 2019 |
---
---