NBA Fastbreak
---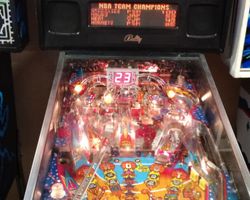 Rating:
3.75 / 5
Average Prices:
USD $700 to $2,000
Manufacturer:
Bally
Produced:
March, 1997
Production Run:
4,414 units
Machine Type:
Solid State Electronic
MPU:
Williams WPC-95
Players:
4




Concept by:
George Gomez
Design by:
George Gomez
Art by:
Kevin OConnor
Mechanics by:
Tom Kopera
Music by:
Kevin Quinn
Sound by:
Kevin Quinn
Software by:
Tom Uban
NBA Fastbreak is a 1997 pinball machine released by Midway (under the Bally brand name). It is also the only pinball machine in existence that featured the possibility to directly link two machines together and having two players play against each other in realtime (unlike the tournament system introduced by Pinball 2000 and later Stern machines that just feature extended highscore lists).
Gameplay
The scoring is like the real NBA, meaning that 300 points is a terrific score. The scoring is balanced, and completely linear. That in itself is a major difference from other pinball machines. Additionally it is the only WPC machine that does not feature an after ball bonus count. The objective of NBA Fastbreak is to get to Trophy Multiball by completing six tasks, win a championship ring, and score as many points as possible along the way. The six tasks are:
Goals
20 points
Combos
Stadium Goodies
Multiballs
Power Hoops and Power Points
When all the tasks are completed, Trophy Multiball automatically starts (if you lose the ball before it starts, it'll start on the next ball). The player then has unlimited balls for about 20 seconds. The center ramp is lit for 2 points and the goal is to outscore the "other team" (it seems like 6 or 7 shots are necessary to do this). If the player wins, a championship ring is awarded and the player becomes the current MVP.
Marketing Slogans
"The Hottest Rookie of the Year!"
"They Shoot, You Score!"
---
---
| Cost | Location | Date |
| --- | --- | --- |
| USD $6,900 | United States | 20 February, 2023 |
| USD $7,999 | United States | 31 October, 2021 |
| USD $7,999 | United States | 31 October, 2021 |
| USD $3,895 | United States | 24 August, 2021 |
| USD $3,895 | United States | 10 August, 2021 |
| EUR €3,499 | Czech Republic | 07 April, 2021 |
| USD $8,995 | United States | 09 January, 2021 |
| GBP £2,501 | Czech Republic | 27 March, 2020 |
| EUR €2,210 | Germany | 04 February, 2020 |
| USD $2,800 | United States | 29 December, 2019 |
---
---