Stargate
---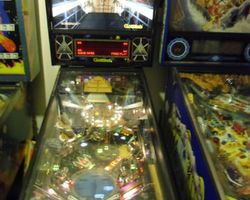 Rating:
4.08 / 5
Average Prices:
USD $700 to $1,900
Manufacturer:
Premier Technology
Produced:
March, 1995
Production Run:
3,600 units
Machine Type:
Solid State Electronic
MPU:
Gottlieb System 3
Players:
4




Design by:
Ray Tanzer
,
Jon Norris
Art by:
Constantino Mitchell
Dots/Animation by:
Alycen Hareas
,
Vecennia Jordan
,
Rand Paulin
Mechanics by:
Marion Czyz
,
Wesley Chang
Sound by:
Craig Beierwaltes
,
Duane Decker
Software by:
Allen Edwall
Stargate is a 1995 pinball game, designed by Ray Tanzer and Jon Norris and released by Gottlieb. The game is based on the film Stargate, not the television show Stargate SG-1. It has many modes, including several multi-ball modes.
A "pyramid" is the main feature of this game. It has a top that opens by raising and lowering. A moving "Glidercraft" ship will be extended from the pyramid when the pyramid is open. The "Glidercraft" will zigzag left-right, in front of the pyramid, with about 90 degrees of horizontal movement.
This game also features two "Horus" targets. These are basically the reverse of drop targets: they are targets that, rather than dropping down into the playfield when hit, rise up into the air. Each target is attached to a large "Horus" structure, which is itself attached to a pivot that can raise and lower. These Horus structures drop down to block the player from reaching two key shots. The game occasionally raises them, allowing the player to temporarily make the shots.
Part of the development involved having actor James Spader record the voice parts of Daniel Jackson.
Marketing Slogans
"Transport yourself to another dimension"
---
---
| Cost | Location | Date |
| --- | --- | --- |
| EUR €3,499 | Italy | 10 February, 2023 |
| USD $4,000 | Greece | 14 November, 2021 |
| USD $2,600 | United States | 03 April, 2021 |
| EUR €2,500 | Germany | 24 March, 2021 |
| USD $2,000 | United States | 20 March, 2021 |
| USD $2,700 | United States | 16 March, 2021 |
| USD $2,700 | United States | 12 March, 2021 |
| USD $5,999 | United States | 10 February, 2021 |
| AUD $5,250 | Victoria, Australia | 26 August, 2020 |
| GBP £1,950 | Leicester, United Kingdom | 06 July, 2020 |
---
---