The Shadow
---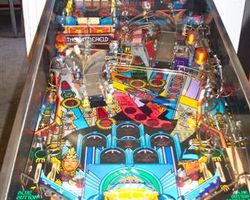 Rating:
4.10 / 5
Average Prices:
USD $800 to $2,300
Manufacturer:
Bally
Produced:
November, 1994
Production Run:
4,247 units
Machine Type:
Solid State Electronic
MPU:
Williams WPC Security (WPC-S)
Players:
4




Design by:
Brian Eddy
Art by:
Doug Watson
Dots/Animation by:
Scott Slomiany
,
Eugene Geer
Mechanics by:
Robert C. Friesl
Music by:
Dan Forden
Sound by:
Dan Forden
Software by:
Mike Boon
,
Brian Eddy
The Shadow is a 1994 pinball game designed by Brian Eddy and released by Midway (under the Bally label). It is based on the 1994 movie of the same name.
This game featured new speech by Penelope Ann Miller (Margo Lane), John Lone (Shiwan Khan), and Tim Curry (Farley Claymore) (reprising their respective roles), as well as speech from the movie. The Shadow's speech for this game was provided by Williams/Midway voice actor, Tim Kitzrow.
The game's noted features include player-controlled ball diverters on the left and right ramps, a magnetic ball lock (which freezes the ball and pulls the ball inside the ball lock for Shadow Multiball), and a Breakout-style upper playfield, called "The Battlefield".
Gameplay
The goal is to complete the following tasks to engage in a Final Battle with Shiwan Khan, the game's antagonist:
Complete Scenes: Complete the following scenes:

Punish The Guilty
Farley Claymore
Duel Of Wills (video mode)
The Beryllium Sphere
Escape Underwater Doom
Discover Hotel Monolith

Conquer Battle Field: You have to hit a row of drop targets a certain amount of times to defeat Khan
Shadow Multiball
Khan Multiball
After you complete the tasks, shoot the "Start Scene" saucer to start Final Battle, a five-ball wizard mode. In this mode, all five balls are launched into play and the objective is hit all the targets on the playfield (including the Battlefield) with at least two balls in play to score a 1 Billion point bonus.
Marketing Slogans
"Where the Shadow falls, earnings rise."
"No One Can Resist the Power of The Shadow"
"The Shadow has the power to cloud men's minds. But The Shadow pinball has the power to seize players' imaginations!"
---
---
| Cost | Location | Date |
| --- | --- | --- |
| USD $8,999 | United States | 30 November, 2022 |
| EUR €8,490 | Germany | 05 December, 2021 |
| USD $5,895 | United States | 12 October, 2021 |
| USD $3,850 | United States | 06 May, 2021 |
| GBP £2,395 | United Kingdom | 26 January, 2021 |
| EUR €3,790 | Germany | 05 January, 2021 |
| USD $3,800 | United States | 30 November, 2020 |
| USD $3,500 | United States | 24 November, 2020 |
| USD $4,300 | United States | 28 September, 2020 |
| USD $4,200 | United States | 23 August, 2020 |
---
---