Demolition Man
---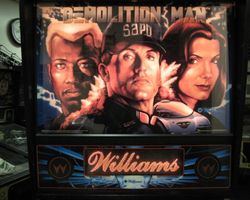 Rating:
3.89 / 5
Average Prices:
USD $700 to $1,700
Manufacturer:
Williams
Produced:
Febuary, 1994
Production Run:
7,019 units
Machine Type:
Solid State Electronic
MPU:
Williams WPC (DCS)
Players:
4




Design by:
Dennis Nordman
Art by:
Doug Watson
,
Linda Deal (aka Doane)
Dots/Animation by:
Scott Slomiany
,
Eugene Geer
Mechanics by:
Win Schilling
,
Armando Zuniga
Music by:
Jon Hey
Sound by:
Jon Hey
Software by:
Bill Grupp
,
Ted Estes
Demolition Man is a Williams pinball machine released in February 1994. It is based on the motion picture of the same name. It is part of WMS' SuperPin line of widebody games.
Sylvester Stallone (John Spartan) and Wesley Snipes (Simon Phoenix) provided custom speech for this game.
Multiball modes
This game is centered on multiball modes. The player has to shoot the left ramp when the "freeze" light is lit (lit by the right inlane) to "lock" a ball. When the required amount of locks are made, the player has to shoot the left loop to start multiball.
Fortress Multiball (2 balls required)
Museum Multiball (3 balls required)
Wasteland Multiball (4 balls required)
Cryoprison Multiball (5 balls required)
Completing all four multiball modes lights the right ramp for the wizard award, Demolition Jackpot, which is the total amount of all the jackpots collected during the game. The Demolition Jackpot is lost if the ball drains.
Cryo-Claw modes
The game's other main feature is the Cryo-Claw, which is located on the upper-left side of the playfield, and is lit at the left inlane. The following awards are as follows:
Start AcMag
Lock Freeze
Prison Break
Super Jets
Capture Simon
Completing all of the Cryo-Claw modes lights the Underground shot for the wizard mode, Demolition Time. In this mode, three balls are launched into play, and all of the major shots are initially worth 15 million points. Hitting the five standup targets increases the base value of all the major shots by 5 million points, and launches another ball into play, up to five balls.
Marketing Slogans
"One pinball you definitely want on your side."
"It's sure to arrive with a Bang!"
"The Pinball that will Blow You Away!"
"Williams' Most Explosive Pinball Ever."
---
---
| Cost | Location | Date |
| --- | --- | --- |
| GBP £4,001 | United Kingdom | 18 February, 2023 |
| USD $5,000 | United States | 17 January, 2022 |
| EUR €5,500 | Germany | 07 January, 2022 |
| USD $3,000 | United States | 30 November, 2021 |
| USD $3,000 | United States | 30 November, 2021 |
| USD $3,000 | United States | 30 November, 2021 |
| USD $3,000 | United States | 21 November, 2021 |
| USD $5,499 | United States | 17 October, 2021 |
| EUR €2,526 | Germany | 08 August, 2021 |
| GBP £2,501 | Walsall, United Kingdom | 24 April, 2021 |
---
---