Bram Stoker's Dracula
---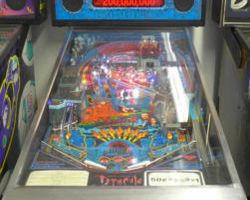 Rating:
4.12 / 5
Average Prices:
USD $700 to $2,200
Manufacturer:
Williams
Produced:
April, 1993
Production Run:
6,801 units
Machine Type:
Solid State Electronic
MPU:
Williams WPC (Fliptronics 2)
Players:
4




Design by:
Barry Oursler
,
Mark Sprenger
Art by:
Mark Sprenger
Dots/Animation by:
Scott Slomiany
Mechanics by:
Zofia Bil
Music by:
Paul Heitsch
Sound by:
Paul Heitsch
Software by:
Bill Pfutzenreuter
Bram Stoker's Dracula is a 1993 pinball machine released by Williams. It was based in the 1992 film of the same name. The game was characterized by its unusual blood-red DMD display (most other games at the time used orange for their color) as well as a "Multi-Multi-Ball" mode, where up to three different multiball variations could be active at the same time, with each successive active mode providing a jackpot multiplier of up to 3x. It also featured a unique variation on the usual multiball mode known as "Mist Multiball," where a magnet would drag a pinball across the playfield and the player would be required to knock it loose from the magnet's grasp to start the mode.
Marketing Slogans
"This will really slay the pinball pro! (Multi Multi-Ball)"
"Heres a killer feature! (Mist Multi-Ball)"
"Players will be `coffin up' quarters..."
"A game you can really sink your teeth into!"
---
---
| Cost | Location | Date |
| --- | --- | --- |
| AUD $6,176 | Australian Capital Territory, Australia | 13 February, 2023 |
| GBP £3,900 | Bristol, United Kingdom | 19 September, 2021 |
| USD $3,500 | United States | 16 March, 2021 |
| USD $3,500 | United States | 14 March, 2021 |
| USD $4,750 | United States | 12 March, 2021 |
| GBP £1,475 | Nelson, United Kingdom | 04 March, 2021 |
| USD $5,000 | United States | 06 November, 2020 |
| GBP £3,999 | Watford, United Kingdom | 03 November, 2020 |
| USD $4,500 | United States | 15 October, 2020 |
| GBP £3,495 | United Kingdom | 02 October, 2020 |
---
---