The Getaway: High Speed II
---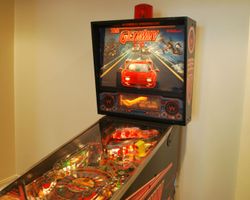 Rating:
4.02 / 5
Average Prices:
USD $800 to $2,100
Manufacturer:
Williams
Produced:
Febuary, 1992
Production Run:
13,259 units
Machine Type:
Solid State Electronic
MPU:
Williams WPC (Fliptronics 2)
Players:
4




Design by:
Steve Ritchie
Art by:
Mark Sprenger
,
Doug Watson
Dots/Animation by:
Scott Slomiany
Mechanics by:
Carl Biagi
,
Greg Tastad
Music by:
Dan Forden
Sound by:
Dan Forden
Software by:
Dwight Sullivan
The Getaway: High Speed II is a 1992 pinball game by Steve Ritchie. It is a sequel to 1986's popular High Speed.
The Getaway is almost identical to its predecessor, with the following changes:
Dot-matrix display (Resolution: 128x32)
The plunger is replaced with a gearshift, which is also used during main gameplay, as well as the video mode
Magnetic ball accelerator, dubbed the "Supercharger"
This game uses the song "La Grange" by ZZ Top for its main gameplay song.
Gameplay
There are basically two main objectives in the game:
Run the Red Light — Lock the three balls by first hitting all three stoplight targets of the same color (first green, then yellow and finally red) and then shooting the left loop or the small inner loop to lock the ball. After the final lock, Multiball will start. (Super) Jackpots can then be lit by shooting into the Supercharger and scored by shooting the left loop or the small inner loop.
Redline Mania — By continuously shooting RPM (outer loops) you'll be awarded gears (use the gearshift to collect the mentioned bonus):

1st Gear - 3 Million
2nd Gear - Hold Bonus
3rd Gear - Light Video Mode
4th Gear - Supercharger Mode
5th Gear - Light Redline Mania

The last gear will light "Redline Mania" which cannot be collected by the gearshift, but is awarded by shooting the Supercharger.
Secondary objectives:
Freeway — Either inlane will light the corresponding outer loop for a Freeway reward. The fifth Freeway will light Extra Ball in the Tunnel.
Tunnel — The Tunnel is used for various purpose:

Collect "Burn Rubber" (lit by shifting into a higher gear)
Collect Extra Ball
Collect Video Mode (Pole Position like video game)
Collect Helicopter Bonus (only after scoring a Jackpot during Multiball)
Increase Tunnel Shots (results in a special)

1-2-3 targets — Relight Kickback and/or Supercharger Loop
Supercharger — Depending on the number of 1-2-3 targets scored, collect up to 10 million
Speed Millions — Continuous shots to the inner loop by the upper right flipper will score increasing (unlimited) Speed Millions
Marketing Slogans
---
---
| Cost | Location | Date |
| --- | --- | --- |
| USD $6,999 | United States | 11 February, 2023 |
| GBP £5,000 | Bristol, United Kingdom | 26 November, 2022 |
| GBP £5,800 | King's Lynn, United Kingdom | 10 July, 2022 |
| USD $7,999 | United States | 15 September, 2021 |
| USD $3,700 | United States | 29 January, 2021 |
| GBP £2,600 | North Walsham, United Kingdom | 13 January, 2021 |
| EUR €3,800 | Germany | 11 January, 2021 |
| EUR €3,800 | Germany | 30 December, 2020 |
| AUD $6,000 | Queensland, Australia | 17 December, 2020 |
| GBP £1,871 | United Kingdom | 16 December, 2020 |
---
---