Funhouse
---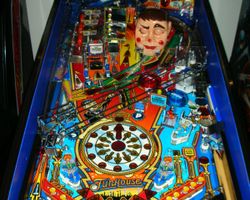 Rating:
4.18 / 5
Average Prices:
USD $900 to $3,500
Manufacturer:
Williams
Produced:
November, 1990
Production Run:
10,750 units
Machine Type:
Solid State Electronic
MPU:
Williams WPC (Alpha Numeric)
Players:
4




Concept by:
Pat Lawlor
Design by:
Pat Lawlor
,
Larry DeMar
Art by:
John Youssi
Mechanics by:
John Krutsch
Music by:
Chris Granner
Sound by:
Jon Hey
Software by:
Larry DeMar
,
Brian Eddy
FunHouse is a pinball game designed by Pat Lawlor. It was released in 1990 by Williams Electronics. As its title suggests, the game is themed after the concept of a funhouse, a walk-through amusement park featuring many attractions.
FunHouse features a talking doll head located near the upper-right corner of the playfield. The head, named Rudy, responds in real time to events in the game, including informing the player of special bonuses, taunting and heckling the player, and appearing to follow the ball with its eyes when certain targets are hit. Rudy is voiced by Ed Boon, and the technology behind Rudy's facial movements was dubbed "Pin-mation" by Williams.
Game Rules
The game's overall theme is that of a funhouse, with the player taking on the role of a visitor to see its attractions. The overall goal of the game is to advance the "game time" to midnight and cause the FunHouse to close, allowing the player to start multiball mode. A secondary goal of the game is to complete the "Mystery Mirror" by lighting all of its modes, starting "Super Frenzy" mode. The game is over when the player has lost all balls, including any extra balls earned.
Every target and ramp has a name and function following the funhouse theme. Aside from Rudy himself, the game's main feature is a virtual clock in the center of the playfield, which advances the current time by increments of five minutes with each successful shot. When the clock reaches 11:30, it stops advancing and the game announces that the FunHouse will close in thirty minutes. Making a successful shot to the "Hidden Hallway" locks the current ball and advances the clock to 11:45. Making this shot again locks the second ball and advances the clock to midnight. Rudy then falls asleep and his mouth remains open - to start Multiball, the player must shoot a ball into Rudy's mouth. While at least two balls are in play, the player can score a Jackpot by shooting the Trap Door next to Rudy while it is open. When multiball mode ends, the time resets to an earlier "opening" time, and single-ball mode continues as before.
Funhouse appears as a playable table on Pinball Hall of Fame: The Williams Collection for the Wii, PS2 and PSP
Marketing Slogans
"The Game is Watching You"
---
---
| Cost | Location | Date |
| --- | --- | --- |
| USD $7,000 | United States | 12 January, 2023 |
| USD $7,000 | United States | 12 December, 2022 |
| USD $9,999 | United States | 30 November, 2022 |
| USD $10,999 | United States | 16 October, 2022 |
| USD $8,999 | United States | 15 September, 2022 |
| USD $9,399 | United States | 16 July, 2022 |
| USD $10,999 | United States | 10 July, 2022 |
| USD $6,995 | United States | 16 May, 2022 |
| USD $9,999 | United States | 02 April, 2022 |
| USD $8,800 | United States | 16 January, 2022 |
---
---