Jurassic Park
---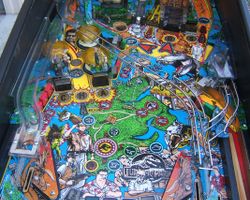 Rating:
4.18 / 5
Average Prices:
USD $700 to $2,300
Manufacturer:
Data East
Produced:
April, 1993
Production Run:
9,008 units
Machine Type:
Solid State Electronic
MPU:
DataEast/Sega Version 3
Players:
4




Design by:
Ed Cebula
,
Joe Kaminkow
,
John Borg
Art by:
Markus Rothkranz
Dots/Animation by:
Kurt Andersen
,
Jack Liddon
Music by:
Brian Schmidt
,
John Williams
Sound by:
Brian Schmidt
Software by:
John Carpenter
,
Neil Falconer
,
Lonnie D. Ropp
Jurassic Park is a pinball machine produced by Data East Pinball. It is based on the motion picture of the same name.
Gameplay
There are 11 gameplay modes, called "Computer Screens". They are started by shooting the right scoop, called "Control Room", when it's lit. These modes are stackable (i.e., one mode can be running while another mode is in progress). The Control Room is briefly lit by the right ramp or either inlane, and is permanently lit by shooting the Power Shed (the right scoop) on the upper-right side of the playfield.
Stampede
Escape Isla Nubar
Raptor Two-Ball: Lights the Boat Dock (saucer at the right loop) for Raptor Two-Ball multiball. Shooting the Raptor Pit collects the Raptor Jackpot.
Electric Fence: You have to hit the pop bumpers a certain amount of times to get Timmy off the electric fence, before he gets electrocuted.
Spitter Attack
System Boot: Shoot the Bunker, the Control Room, and the Power Shed scoops to collect a maximum of 30 million points.
Raptors' Rampage
Mosquito Millions
Feed T-Rex: Shoot the T-Rex saucer to feed the "goat" (ball) to the T-Rex for 30 million points.
Bone Busting
Light Extra Ball: Extra Ball is lit at the Boat Docks.
Completing all Computer Screen modes lights the Control Room for System Failure, a six-ball "wizard mode" where all shots on the playfield are worth 1 million points. It lasts for 45 seconds.
Marketing Slogans
"A Pinball Adventure 65 Million Years in the Making."
"If it's not Jurassic Park, it's Extinct!"
"Jurassic Park.the movie event of the summer, the pinball event of the year!"
---
---
| Cost | Location | Date |
| --- | --- | --- |
| USD $7,999 | United States | 15 March, 2023 |
| GBP £5,600 | London, United Kingdom | 15 December, 2022 |
| USD $8,999 | United States | 10 November, 2022 |
| USD $7,999 | United States | 29 June, 2022 |
| USD $5,500 | United States | 31 May, 2022 |
| AUD $5,799 | Queensland, Australia | 13 March, 2022 |
| USD $6,500 | United States | 19 January, 2022 |
| USD $4,500 | United States | 09 January, 2022 |
| USD $4,000 | United States | 21 December, 2021 |
| GBP £3,750 | Southampton, United Kingdom | 06 December, 2021 |
---
---