PIN·BOT
---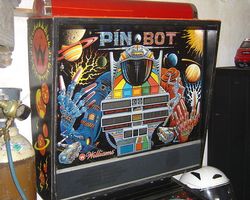 Rating:
4.05 / 5
Average Prices:
USD $300 to $1,400
Manufacturer:
Williams
Produced:
October, 1986
Production Run:
12,001 units
Machine Type:
Solid State Electronic
MPU:
Williams System 11A
Players:
4




Concept by:
Python Anghelo
Design by:
Barry Oursler
,
Python Anghelo
Art by:
Python Anghelo
Mechanics by:
Joe Joos Jr.
Music by:
Chris Granner
Sound by:
Chris Granner
,
Bill Parod
Software by:
Bill Pfutzenreuter
Pin*Bot is a pinball game released by Williams in October of 1986, designed by Barry Oursler and Python Anghelo. It is known for its futuristic space music (composed by Chris Granner).
Contents
Rules
In this pinball game, you try to make it around the solar system on your journey to the Sun. The first planet is always Pluto. In order to move from planet to planet, you have to knock down three drop targets in quick succession, or hit a specially marked target when it is lit. Each planet reached gives you a 20,000 point bonus at the end of the ball.
At the center of the playfield is a 5 by 5 grid. Lighting up the grid causes a visor to lift, revealing the robot's eye sockets. Locking balls in each socket causes the robot to say, "Now I see you," after which a bonus multi-ball begins. Re-locking a ball makes Pin*Bot announce, "Shoot for Solar Value," allowing you to shoot the free ball up the left ramp to collect a jackpot. The jackpot value increases 50,000 points every time a ball has traveled up the ramp. The jackpot total carries over from game to game until it is collected.
There was a home version released for the Nintendo Entertainment System in the 1990s. Pin*Bot is also playable on
Pinball Hall of Fame: The Williams Collection
.
Sequels
Pin*Bot was followed by two sequels: The Machine: Bride of Pin*Bot (released in 1991) and Jack*Bot (released in 1995).
Trivia
Pin*Bot appears in the 1988 pinball game, Taxi (created by Anghelo and Mark Ritchie).
This was the pinball machine that Tom Hanks had in the movie Big
Marketing Slogans
"All this...made humanly possible by Williams"
"The ultimate machine."
---
---
| Cost | Location | Date |
| --- | --- | --- |
| USD $5,000 | United States | 18 August, 2022 |
| USD $5,895 | Canada | 08 August, 2022 |
| USD $5,295 | United States | 12 December, 2021 |
| USD $5,295 | United States | 02 November, 2021 |
| USD $2,760 | United States | 17 August, 2021 |
| USD $2,001 | United States | 06 August, 2021 |
| USD $5,295 | United States | 13 July, 2021 |
| USD $3,889 | United States | 04 July, 2021 |
| USD $4,295 | United States | 25 May, 2021 |
| EUR €2,450 | Germany | 22 May, 2021 |
---
---