Red & Ted's Road Show
---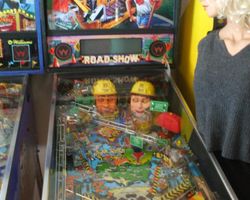 Rating:
4.13 / 5
Average Prices:
USD $1,100 to $2,500
Manufacturer:
Williams
Produced:
October, 1994
Production Run:
6,259 units
Machine Type:
Solid State Electronic
MPU:
Williams WPC Security (WPC-S)
Players:
4




Concept by:
Pat Lawlor
Design by:
Pat Lawlor
,
Dwight Sullivan
,
Ted Estes
Art by:
John Youssi
Dots/Animation by:
Scott Slomiany
,
Eugene Geer
,
Adam Rhine
Mechanics by:
John Krutsch
Music by:
Chris Granner
Sound by:
Chris Granner
Software by:
Dwight Sullivan
,
Ted Estes
Red & Ted's Road Show (also known as Road Show) is a 1994 widebody pinball game designed by Pat Lawlor and released by Williams. It is part of WMS' SuperPin line of widebody games.
Country singer Carlene Carter provided the voice of Red, and her song, "Every Little Thing", is featured in the game. The game is considered an unofficial successor of FunHouse, as both were designed by Pat Lawlor and feature talking head(s) along with some similar playfield layout ideas. It is equipped with a Shaker Motor to make the machine vibrate. It is the only pinball machine that features an additional daily highscore list.
Gameplay
The main goal is to travel the USA from east to west, starting in New York or Miami. The cities/states and their missions that must be passed are:
New York - Smash a Cab
Miami - Spring Break
Atlanta - Worker Trapped
Ohio - Trapped in Ohio
New Orleans - Mardi Gras
Nashville - Change the Station (2 Ball Multiball)
Chicago - Evil Toll Roads
Dallas - Monster Cab
Kansas City - Tornado (2 Ball Multiball)
Minnesota/Minneapolis - Frozen People
Albuquerque - Trading Post (Sell Souvenirs)
Denver - Gold Rush
Butte - Tunnel Hunt
Salt Lake City - Old West
Las Vegas - Slot Machine
Seattle - Alien Invasion
San Francisco - Monster Attack
Los Angeles - Earthshaker (reminiscence to Earthshaker)
The wizard mode (Super Payday) can be started whenever one visits a city at the West Coast and:
lock one ball in Bob's Bunker
lock another ball in the Bunker/Start City/Blast Hole
Marketing Slogans
"It's a big country... Someones got to tear it up!"
"When it comes to wreckin' road, two heads are better than one."
"Hit the road with RED AND TED'S ROADSHOW"
---
---
| Cost | Location | Date |
| --- | --- | --- |
| USD $5,000 | United States | 26 June, 2022 |
| USD $5,000 | United States | 28 December, 2021 |
| USD $4,050 | United States | 08 December, 2021 |
| EUR €3,500 | Germany | 20 November, 2021 |
| GBP £3,650 | Nocton, United Kingdom | 29 June, 2021 |
| USD $5,550 | United States | 14 June, 2021 |
| USD $4,995 | United States | 09 June, 2021 |
| USD $3,950 | United States | 29 March, 2021 |
| USD $4,695 | United States | 27 March, 2021 |
| AUD $5,500 | New South Wales, Australia | 25 March, 2021 |
---
---